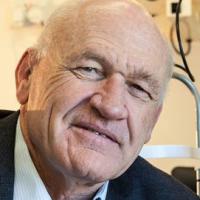 Vision Eye Institute, Brisbane
Dr Mark Loane specialises in glaucoma, cataract surgery and general ophthalmology. He practices out of the Vision Eye Institute in Brisbane, Queensland.
Background
Dr Loane graduated medicine in 1978 from University of Queensland and completed ophthalmology in 1986, being awarded the Cedric Cohen Medal for Excellence at the Part 1 examination of the Royal Australian College of Ophthalmologists in 1984. Dr Loane completed a fellowship in Corneal Transplantation and External Eye Disease at Flinders medical Centre, South Australia in 1987-88 under Professor Douglas Coster. Dr Loane also completed a fellowship in Glaucoma at the University of California, San Diego in 1989-90 under Professor Robert Weinreb.
Professional Credentials
Dr Loane is on the Board for Guide Dogs Queensland and The Eye Foundation. He heads the Cape York Eye Health Project delivering eye health services to remote communities in the Cape York Peninsula.